8 Best AI Article Summarizer Tools in 2023
What is an article summarizer?
An article summarizer is a tool or software that condenses the content of an article and makes it shorter while retaining all the essential information. This can be helpful for quickly understanding the content of lengthy publications or research papers without having to read the entire text.
How do you summarize an article with AI?
An AI that summarizes articles and other sources uses advanced algorithms to extract key sentences and provide concise summaries of texts. Such tools can be applied to essays, research papers, videos, and more, and help you understand a work's essence quickly to determine if it is worth digging into the full content.
How to Choose the Best AI Summarizer for Your Article
Choosing the best AI summarizer for a specific text depends on your exact needs and the characteristics of the text you want to summarize. Here's how you make the right choice:
Determine the purpose of the AI article summary. Are you looking for a brief overview, a detailed summary, or a concise extraction of key points?

Consider the text type: Different tools may excel at summarizing specific types of content, such as articles, research papers, or legal documents.

Check which file format the tool accepts: Some AI article summarizers only work with copy-pasted text, whereas advanced tools accept PDFs, audio files, videos, and other formats.

Consider customization options: Some tools allow you to adapt the summary's length and level of detail.

Pricing models vary: If you are looking to complete a one-time task, you probably don't want to invest in a monthly subscription. Consider a free tool or a trial version.

Review the tool: Test the AI summarizer on sample text to assess the quality of the summaries it generates.

Platform integration: If you intend to use the summarizer for a specific platform or application, see if there are plugins/integrations available that make the process seamless.
Best AI Article Summarizers
Whether you're an enthusiastic learner, a seasoned expert, or someone aiming to stay updated, AI summarizer tools provide an efficient way to process more content in less time. In the upcoming section, we'll delve into a selection of 8 AI summary generators, each designed for different needs.
1. Wordvice AI
Wordvice AI's summarizing tool applies AI technology to extract key points from any paragraph or longer text and generate a concise and accurate summary of your document. It creates a bullet list summary that retains your overall meaning while cutting out unnecessary details. Natural language processing algorithms and big data allow the Wordvice AI summarizer to reliably identify the crucial points of a text while removing unnecessary information.
Wordvice AI highlights
Extracts key points and disregards redundant language
Creates accurate summary of any essay, article, or document
100% free to use
Wordvice AI pricing
In addition to the AI Summarizer, Wordvice offers an entire suite of AI tools (a Grammar Checker, an AI Paraphrasing Tool, and an AI Proofreader) that are all free and require no full registration—just create a Wordvice AI account and start summarizing your articles, essays, emails, and other documents. Note, however, that the Basic plan comes with limitations on monthly word count and editing modes. The Premium plan costs less than $20/month, gives you access to all editing modes and nearly unlimited rounds of revisions.
2. Quillbot
Quillbot, like all the AI tools we present to you here, uses machine learning to summarize and paraphrase your text, check it for plagiarism, and suggest synonyms. One useful feature about this tool is that you can integrate it into Word or Google Docs. Two disadvantages of Quilbot, however, are that it is not explicitly designed for summarization and lacks advanced features.
Quillbot highlights
Summary and sentence length can be adjusted
Checks your text for plagiarism
Generates lists (key sentence mode) or summary paragraphs (paragraph mode)
Checks for grammar mistakes
Generates citations for references
Quillbot pricing
The free Quillbot version summarizes up to 1,200 words for you and paraphrases a maximum of 125 words at once, offering a limited number of "modes" (standard and fluent) to choose from.
The premium plan comes at $4.17 (annual) per month, $6.66 (semi-annual), or $9.95 (monthly) per month, allows you to paraphrase an unlimited number of words, and summarizes up to 6,000 words at once. You need to sign up for one of these plans to have access to the plagiarism checker and the grammar rewriting tool, as well as to advanced features like the Quilbot tone detector.
3. Paraphraser io
Paraphraser.io prizes itself on its ability to generate texts with a more "human touch" and for being faster than similar AI summarizer tools. Moreover, you can use it across all your iOS and Android devices, wherever you are. It also comes in only one affordable package with all features, which means you don't need to think about how much to invest.
Paraphraser io highlights
Affordable
Lets you input your entire original text
Fast results
Plagiarism checker
Multilingual (supports 20+ languages)
Paraphraser io pricing
Paraphraser io comes in just one package but offers two payment options: $13.75/month annually or $23 monthly. There is also a discounted student package that costs only $9/month.
4. Jasper AI
Jasper AI, specialized for marketing and blog content, is a powerful AI summarizer tool that offers all the standard features plus some additional ones, such as summary templates. It also comes with a "sentence expander" that improves the flow of your text by automatically increasing sentence length where necessary.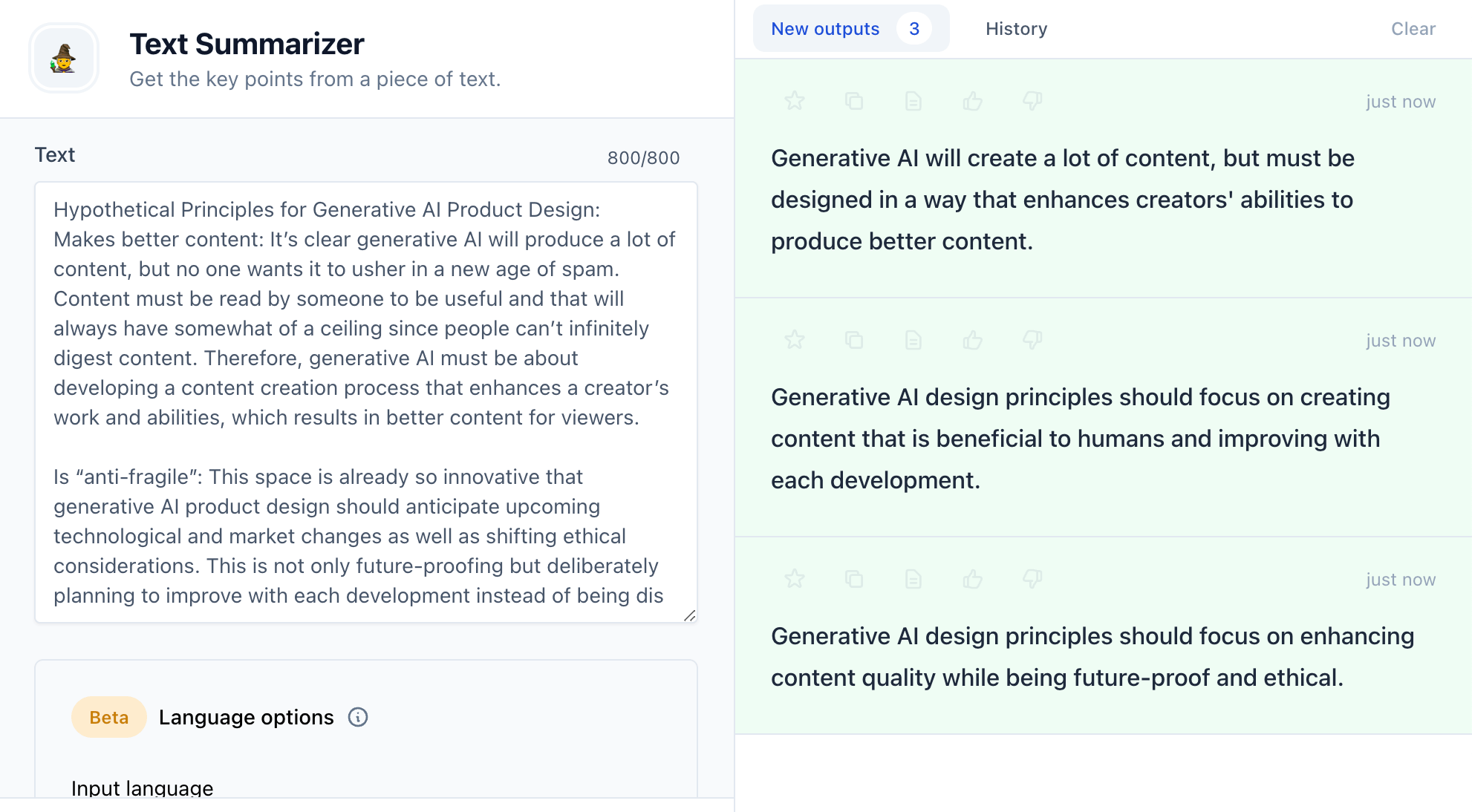 Jasper AI highlights
Identifies key themes and ideas in a given text
Sentence expander
Task automatization
Lets you specify the AI article summary length
Flexible pricing plans
Free trial is available
Jasper AI pricing
Jasper AI does not offer a free plan but several different paid plans: The "Creator Mode" comes at $49/month and allows you to work on and generate an unlimited number of words, the "Teams Mode" for $125/month can be used by up to three team members, and the customized "Business Mode" can be flexibly adjusted to your needs.
5. Resoomer
Resoomer is another free text summarizer that can take your text from lengthy and verbose to lean and concise in seconds. As an AI-powered summary generator, it uses natural language processing to replicate the text you input into summary form. As with a few other article summarizers in this list, Resoomer claims to be specifically calibrated towards academic writing.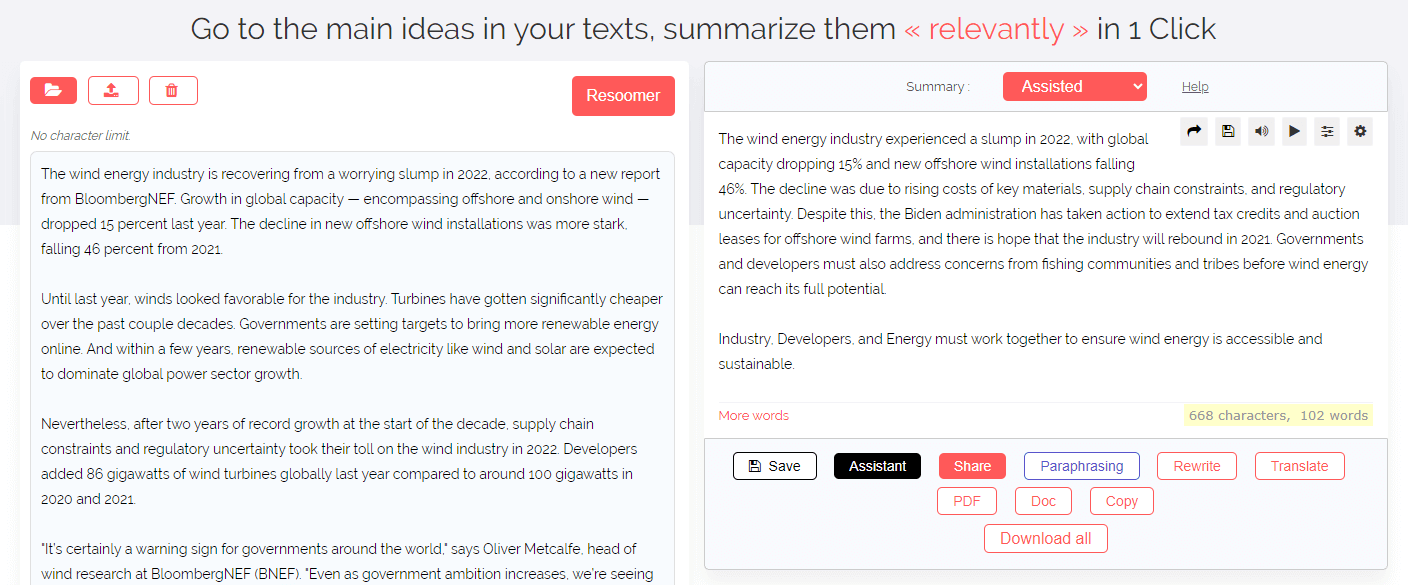 Resoomer highlights
Created for those who write academic texts and to reduce time reading lengthy papers
Completely free – no monthly subscriptions or payment plans available
Quickly summarize text using a copy-and-paste feature
Resoomer pricing
Resoomer has no paid subscription plan available. It is free to use.
6. TLDR This
TLDR This is specifically designed to read and condense long articles and documents. It does this by filtering out weak and unconvincing arguments and thereby quickly and effectively transforms long texts into only its relevant content.
TLDR This highlights
Lets you remove ads and other distractions
Extracts article metadata
Browser extension (for Chrome and Firefox) summarizes any webpage
Simple, easy-to-use interface
Flexible pay-as-you-go subscription plan
TLDR This pricing
The free version of TLDR This gives you access to most of the tools you'll need to perfectly summarize any text. It does, however, limit the number of AI-powered summaries you can create and the number of times you can make use of the paraphrasing tool. With the starter package, at $4/month, and the professional package, at $8.25/month, you get the same tools but increase the number of AI-summaries and paraphrased versions of text you can generate.
7. Inksprout
Inksprout is a good choice if your main goal is to create social media posts that summarize and promote your articles/videos. It comes up with creative captions, and its Chrome extension works well with Twitter, Facebook, LinkedIn, and other social media applications. Just import the link to your article, specify your audience, and let the tool generate summary captions.
Inksprout highlights
Five inbuilt categories: educational, personal, community, promotional, funny
Lets you share captions directly on social media
Free social scheduler and drip campaign builder
Unlimited posts on LinkedIn, Twitter, etc.
Generated text can be edited before sharing it on social media
Inksprout pricing
The free plan lets you generate only a few summaries/captions, and Inksprout is overall more expensive than most other AI summarizer tools: the "Pro" plan at $19.99 per month generates up to 150 summaries/captions and lets you upload 100 GB, while the "Premium" plan at $99 per month comes with 1,000 summaries/captions and 1 TB to upload.
8. Scholarcy
Scholarcy is designed for reading and summarizing academic articles. It spares you from having to dig into every paper or report and helps you quickly identify the main points so you can decide which articles to invest more time in. It also saves your summaries (if you subscribe) and lets you access them again in your personal library.
Scholarcy highlights
Robo-Highlighter™ automatically highlights the most relevant phrases of a papers
Lets you choose the number of words and level of language variations and highlighting
Finds tables and figures in Word/PDF files and lets you download them in Excel format
Browser extension (Chrome or Edge) creates instant summaries for shorter articles
Scholarcy pricing
The browser extension and flashcards are free. To be able to create your personal library, share it with colleagues, and read/annotate articles on any device, you need to sign up for the $7.99/month plan.
Additional Resources for Researchers
Since you don't want to rely on these tools more than necessary (after all, we don't want AI to take over the world any time soon), make sure you keep improving your own writing skills while taking advantage of some of the cool features described above. For example, have a look at this article describing 5 Free Apps to Improve Your Academic Vocabulary, or this Guide to Verb Tenses in Academic Writing.
If you worry about the overall structure of your article rather than the sentence level, then read up on [How to Outline an Essay: 5 Tips for Best Structure. You can of course also request our Professional Proofreading Service or our Academic Editing Service to perfect your essay or article before submission.